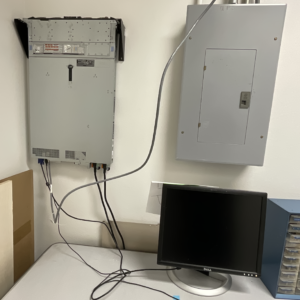 For electrochemists doing research with scanning probe techniques, COMSOL modeling plays a significant role in instructing experiment design, estimating imaging results affected by pipette geometric, and validating electrochemical phenomena observed.
Recently, Baker group has purchased a new server for more efficient COMSOL simulation. The Dell PowerEdge server is specified with 24-core AMD EYPC processor, and 128 GB DDR4 memory, adding extra horsepower to simulations in many scenarios, including surface charge mapping simulation, ion current response in pressurized-SICM mechanical measurement, and Faradaic current estimation in SECCM and SECM-SICM experiments. This shortened the simulation time of many complicated models from overnight runs down to within an hour or even several minutes.
(Server nicely hung on wall by Lane!)
Instead of using a Remote Desktop software, the remote COMSOL connection is easily set up and accessed with Xming on your own computer and runs very low latency.
We are hoping to see this new "horse power" play more roles in the future.